New Degree Students - Before Arrival
The following information is very important for new students. Please be sure to download and read all of them.
2023_Fall_Semester
| | |
| --- | --- |
| Academic Affairs | |
| Experience sharing | |
What you should do before arrive at Taiwan:
>>Click here for further information<<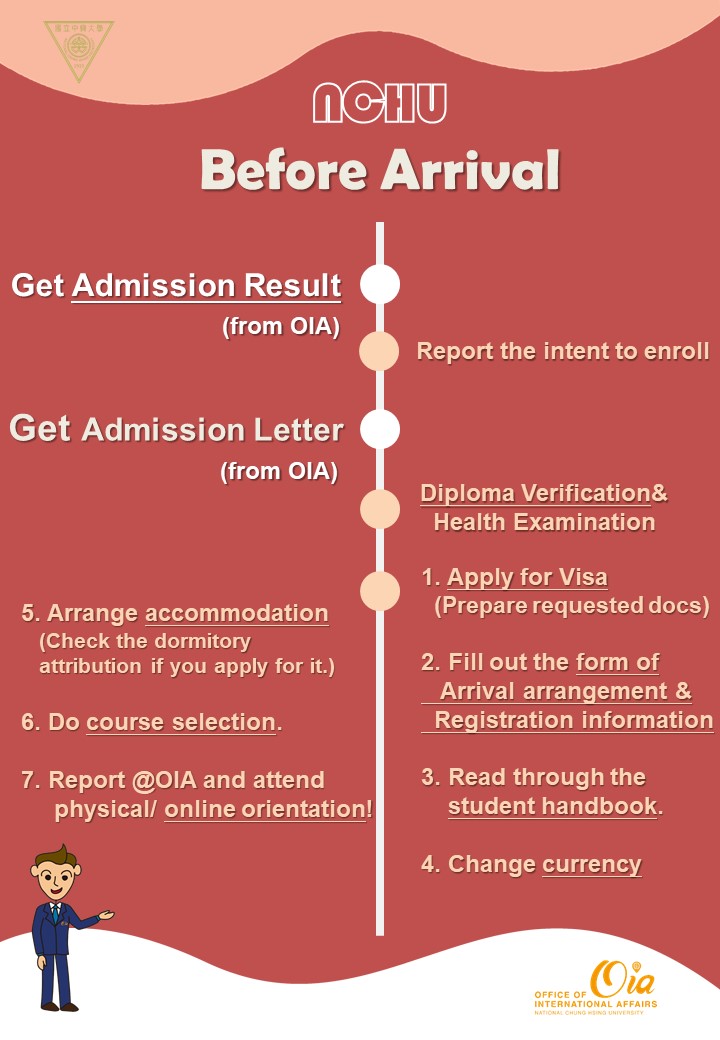 Diploma Verification
Students should contact the Taiwan Representative Office in your country to complete the diploma verification procedures. For the contact information of the representative office, please visit the website of "Bureau of Consular Affairs, Ministry of Foreign Affairs, Republic of China (Taiwan)." Academic diplomas must first be authenticated by the student's home country before being delivered to the Taiwan Representative Office for verification. If there is no Taiwan Representative Office in your country, please check the contact information of the branches on the website of "Bureau of Consular Affairs, Ministry of Foreign Affairs, Republic of China (Taiwan)" and call the representative office to confirm which representative office is responsible for handling your documents.
Resident Visa
We recommend you to apply for a Resident Visa, so that you can apply for an Alien Resident Certificate (ARC). Even if you are from a visa free country, you shall apply for Resident Visa in advance as well. Students who enter Taiwan with a Resident Visa or a Visitor Visa (for foreign exchange students) are required to apply for an "Alien Resident Certificate" (ARC) and a multiple re-entry permit at the National Immigration Agency Taichung Service Centers within 15 days upon arrival in Taiwan.
The duration of stay is subject to the duration specified in an ARC.
For more details, please visit https://www.boca.gov.tw>Visa>Resident Visas>Detailed Information on Republic of China Resident Visas
Foreign nationals who intend to reside in Taiwan for more than 180 days must apply for an ARC in Taiwan. If you fail to apply for an ARC within 15 days upon arrival in Taiwan, you will not be allowed to stay in Taiwan and will be punished.
Documents Required
Visa application form, which can be downloaded from the Bureau of Consular Affairs : www. boca.gov.tw > Visa > Resident Visas > Resident Visa For Foreignstudents
A 2×2 inch photograph taken in the last six months on a white background without wearing a hat and a pair of color glasses
Original passport with blank pages and at least six months' validity and one photocopy
Health Certificate for Residence Application and one photocopy
Admission Letter from NCHU and one photocopy
Highest education diploma and transcripts. For diplomas and transcripts in languages other than Chinese or English, a Chinese- or English-translation version is also required. (Must be authenticated by an R.O.C(Taiwan)overseas mission.)
Original and one photocopy of proof of financial support
Other supporting documents
Visitor Visa
Foreign nationals holding an ordinary passport or other legal travel documents who intend to stay in Taiwan within 180 days for purposes, including transit, tourism, visiting relatives, visiting, inspection tours, international conferences, business, short-term study, short-term employment, short-term missionary work, and other activities in Taiwan as approved by the Ministry of Foreign Affairs, may apply for a Visitor Visa. For more details, please visit https://www.boca.gov.tw/np-147-2.html。
Course Selection Guide
Go to the NCHU Single Sign On System (click the link below).
https://idp.nchu.edu.tw/nidp/idff/
User ID: Your student ID number
Password: 999999mmdd (mmdd represents your date of birth)
Example: If your date of birth is January 1, your password is 9999990101.
ARC holder: The capital and lowercase of the first letter & the last 4 digits of your ID & the last four number of your birthday.
(e.g. if your ARC number is B912345678 and your birthday is January 1st: Bb56780101)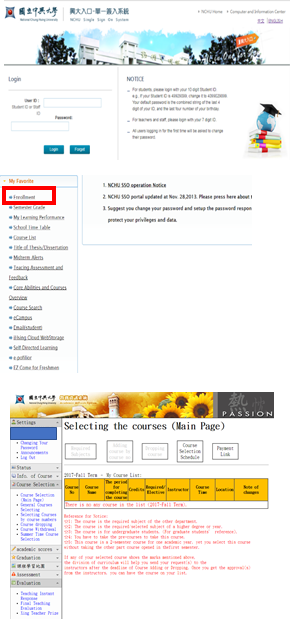 ​
Accommodation
Currency Conversion
I The New Taiwan dollar banknotes in circulation include NT$1000, NT$500, NT$200 (not common), and NT$100. The New Taiwan dollar coins in circulation include NT$50, NT$10, NT$5, and NT$1.
II New Taiwan dollar exchange rates: US dollar : New Taiwan dollar = 1 : 28.69; RMB : New Taiwan dollar = 1 : 4.424 (as of December 2020)