【OIA】Heading to India! NCHU OIA Volunteers Bring Almost 100 Kilograms of Supplies to Serve Nearly 500 Children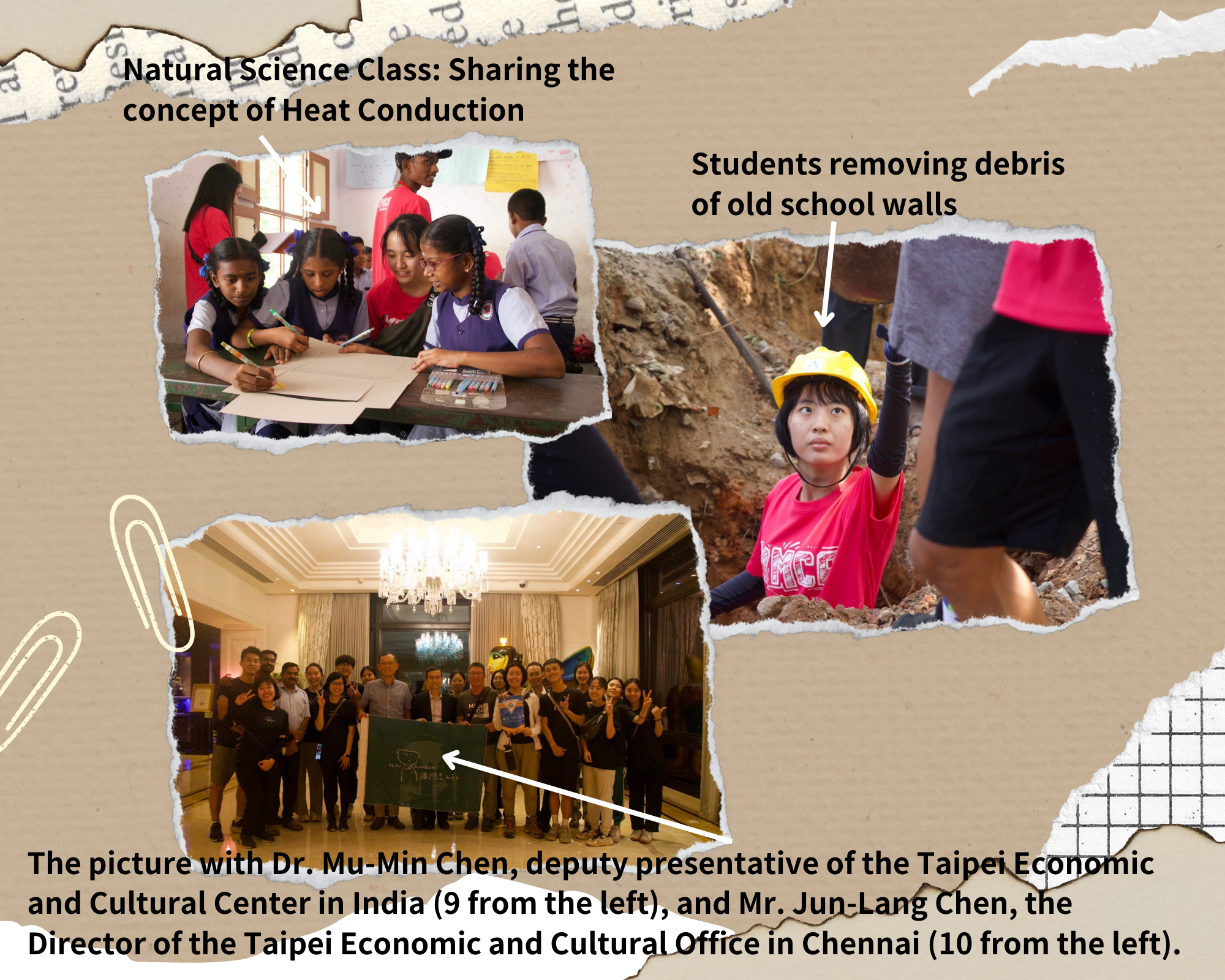 The Office of International Affairs at National Chung Hsing University organized a volunteer team from August 7th to August 21st, 2023. Led by Assistant Professor Zheng Ren-Jun from the Department of Biological Sciences, 17 students and faculty members embarked on a two-week journey to the Yelagiri Hills in Tamil Nadu, India, for the "India Children's Education and Community Infrastructure Project." The NCHU team donated over a hundred kilograms of supplies and stationery to support education in rural areas. Additionally, they assisted in constructing the foundation of local school walls, creating a safer learning environment.
This project took place in YMCA Brown Memorial Matriculation Higher Secondary School. The team had invited several college students from the nearby Sacred Heart College for translation assistance. A total of 16 workshops were conducted, covering topics such as natural science, Taiwanese songs and Chinese conversations, and plum-blowing art classes. They also organized engaging activities like Taiwanese Culture Night and a game fair, attracting the participation of nearly 500 children. The atmosphere was lively and fostered deep connections with local youth volunteers.
The construction work began with the removal and transportation of debris from old walls. Led by local professional engineers, the team worked together to remove the debris, move steel bars, mix cement, and pour it into molds to build the walls. Because of unexpected heavy rain, the wall construction could not be fully completed. However, thanks to the team's assistance, significant progress was made ahead of schedule, and the school expressed immense gratitude.
On the evening of August 18th, the team was invited to dine with Dr. Mu-Min Chen, deputy presentative of the Taipei Economic and Cultural Center in India (also a professor of National Chung Hsing University), and Mr. Jun-Lang Chen, the Director of the Taipei Economic and Cultural Office in Chennai. Both officials highly praised the achievements of this service project and emphasized the need to change stereotypes about India. They regarded the participation of the students as a crucial step towards dispelling biases. They looked forward to seeing more students visit in the future to promote exchange and collaboration between Taiwan and India.
The trip lasted for 15 days, and apart from the service project, the team also arranged a day of homestay and cultural exploration activities, making the journey rich and captivating. During the reflective sharing session before returning to Taiwan, the volunteers expressed that the gains from this trip far exceeded their efforts. They thanked all the individuals who supported them along the way for enabling them to have such a valuable experience. India turned out to be less intimidating than imagined, and taking the first step to actually engage diminished any remaining fears.