2023 NTUST x Project LET'S Go! Summer Program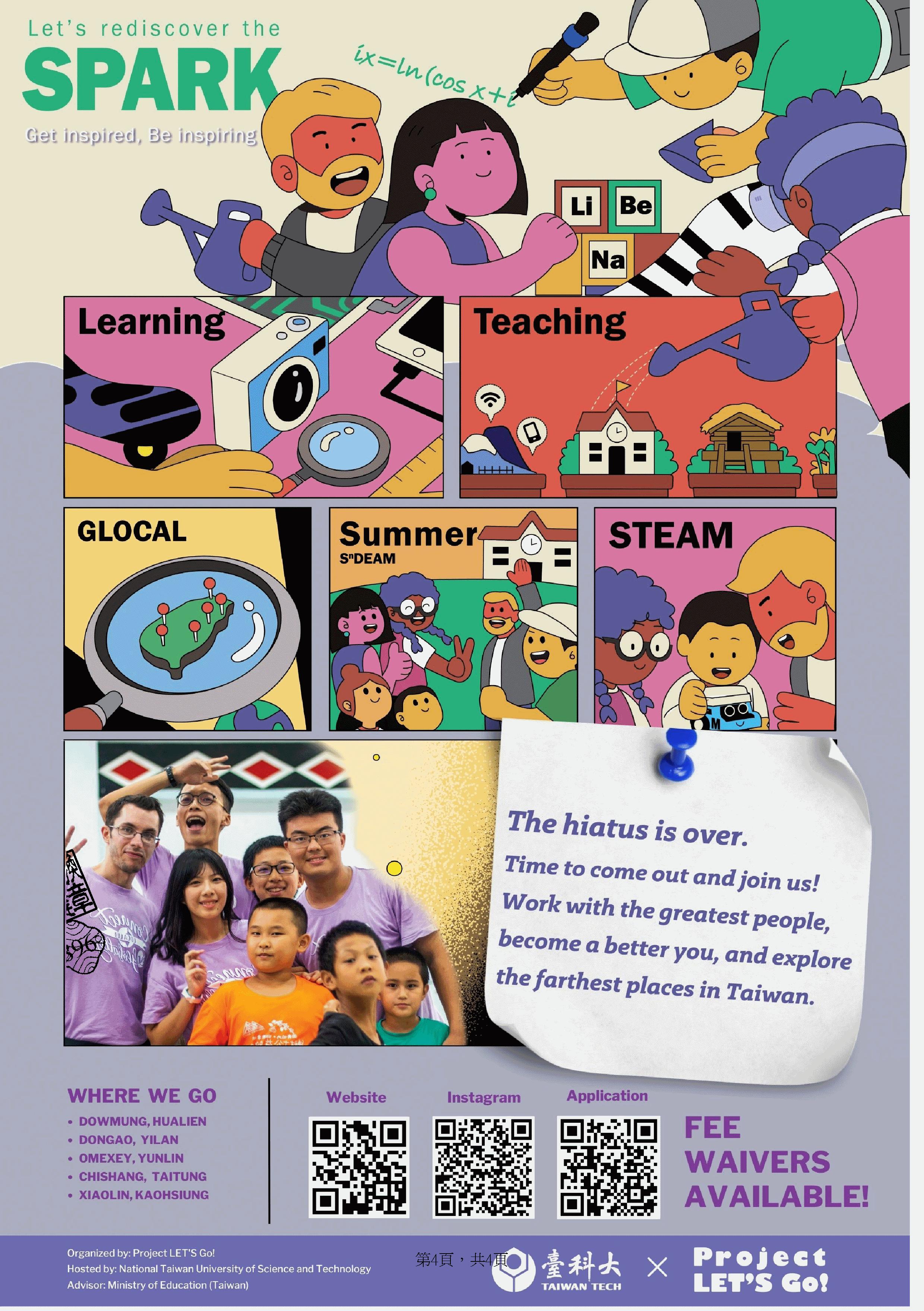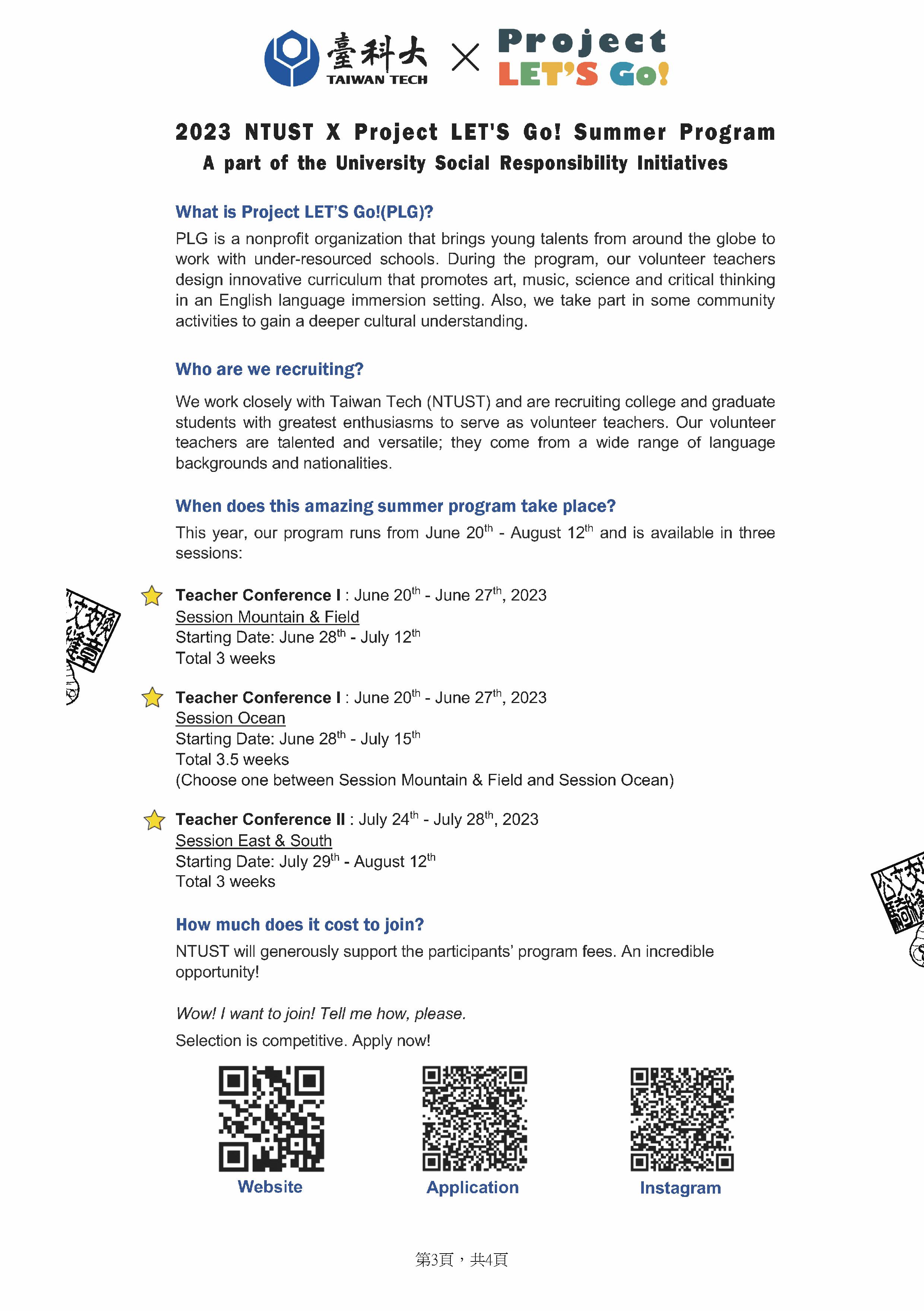 Background and Overview
Project LET'S Go! (PLG) is a non-profit organization, partnered with the National Taiwan University of Science and Technology (NTUST), dedicated to genuine involvement with local communities and schools through English-based curriculum. Our organization targets local partners that represent lower-income, underserved and minority communities in Taiwan.

Since 2010, we have grown to become a grassroots, all-volunteer international organization that offers authentic service learning experiences to everyone involved. With a small team, volunteer teachers quickly become family and develop life-long friendships with their colleagues and the children. Many return to work with us for several years. PLGers are provided with abundant opportunities for personal and professional growth through working hand-in-hand with other PLGers, the children, and the communities we serve. PLG celebrates the diversity of our international and Taiwanese participants and every one's uniqueness fuels our core value. We respect, appreciate and celebrate the views and opinions of all people regardless of race, color, ethnicity, gender, disability, and every other descriptor we can think of that represents diversity. See the Law & Regulation of Ministry of Education for compliance purposes.
Website: www.projectletsgo.org
Facebook: www.facebook.com/PLG.Be.Inspiring/
Youtube: www.goo.gl/L7AgS8
Instagram: www.instagram.com/projectletsgo
Email: This email address is being protected from spambots. You need JavaScript enabled to view it.
Teacher Conference I : June 20th - June 27th (Tue - Tue)
📣 📣 For Sessions Mountain & Field & Ocean
Session Mountain & Field: June 28th - July 12th (Wed - Wed)
Total 3 weeks
Session Ocean: June 28th - July 15th (Wed - Sat)
Total 3.5 weeks

Teacher Conference II : July 24th - July 28th (Mon - Fri)
📣 📣 For Session East & South
Session East & South: July 29th - August 12th (Sat - Sat)*
Total 3 weeks

*Please note that these dates are subject to change due to unforeseen circumstances (weather, public health concerns, etc.)*

Overview: The 2023 NTUST x PLG Summer Program is a 3-6 week opportunity to authentically engage and volunteer with one or more of our 4 partner schools in Taiwan. Through our special "summer camps," our volunteer teachers promote arts, music, science, and critical thinking through English language immersion for elementary and middle school children. Foreign exchange students and those with international backgrounds are strongly encouraged to apply. Applicants can apply to one single session, although priority consideration will be given to those who can commit to two or more sessions.

Logistics: Due to the grassroots nature of our organization, accepted volunteers for the NTUST x PLG Summer Program will be responsible for covering their international airfare and a small program fee. The program fee includes in-country, in-session transportation, accommodation, insurance, meals, orientation materials, and authentic cultural excursions (when applicable). Please note that we are not liable to cover any costs in relation to the required COVID prevention measures set by the Taiwan government, including testing, vaccinations, and quarantine stay, if any.

Please Note: To further our GLOCAL (global + local) vision, we are supporting you by offering generous fee waivers to outstanding college students 17 and older. This means the listed program fees may be completely WAIVED upon board member review.