【NUST】2023 Taiwan Cultural Experience Tour (Atayal)
The quota has been filled. Thank you for your participation.

Event Introduction
This time, we will be heading to the Songhe Tribe in Guguan, Taichung, for an unforgettable one-day exploration. Through a guided tour of the tribe and a hunter's trial, you will have the opportunity to experience the customs and traditional skills of the Atayal culture. At noon, we will enjoy a hearty tribal-style meal, and in the afternoon, we will visit local cultural attractions in Guguan. These places combine Taiwan's historical memories, providing you with more inspiration on this cultural journey.
Target Participants
International students and faculty from NUST, Taiwanese students may be accompanied by a foreign student to participate.
Event Information
Location: Songhe Tribe, Guguan, Taichung
Date: December 9, 2023 (Saturday)
Time: 8:20 AM - 5:00 PM
Registration Deadline: November 17, 2023 (Friday)
Cost: Free, but a deposit of 500 NTD is required in advance.
Language: English
How to Register [Registration is only confirmed after the deposit is made.]
Registration Link (Click here!)
If the maximum number of participants is reached, the registration form will be closed early.
A virtual account for deposit payment will be provided, and the registration process is considered complete after the deposit is made. →How to pay the deposit
Please make the deposit within two days after completing the registration form; failure to do so will result in disqualification.
The deposit will be refunded for those who participate in the entire event.
Itineracy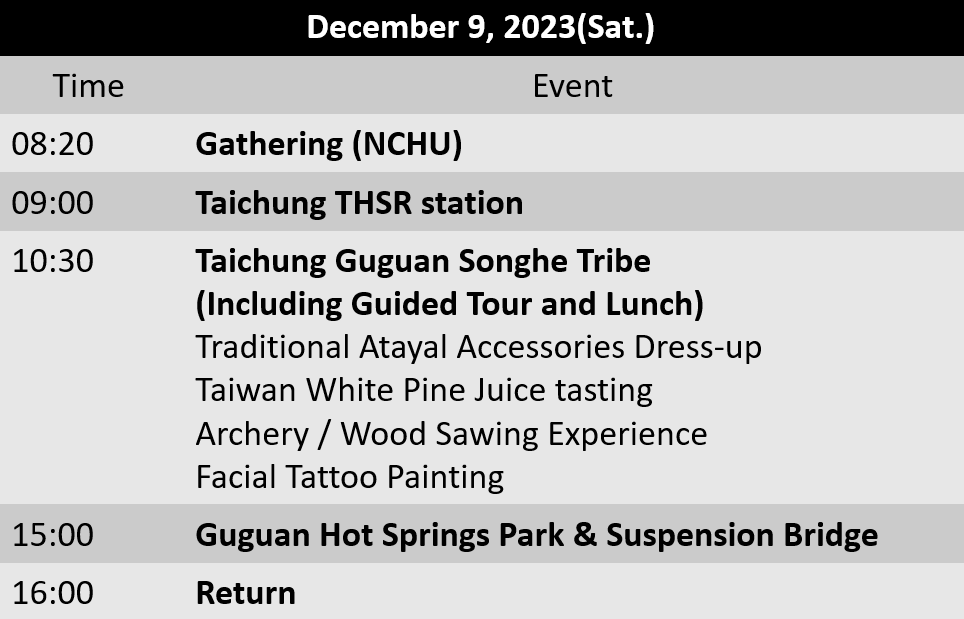 Contact
Ms. Kuo: This email address is being protected from spambots. You need JavaScript enabled to view it.
Office of International Affairs, NCHU