【NUST ∞ Project】Company visit x Taiwan Cultural Tour
This time, we are going to visit National Taiwan Craft Research and Development Institute (NTCRI), and CH Biotech R&D Co., LTD.!!
At NTCRI, you will learn more about Taiwan's local arts and crafts, and participate in an indigo-dyeing workshop.
Visiting CH Biotech will give you a chance to gain firsthand knowledge of advanced biological technologies, and to learn about R&D and promotional work in bio-tech industries.
Don't miss this opportunity to broaden your horizons, and to deepen your understanding of Taiwan's wonderful cultural heritage and advanced bio-tech industry~
Event Information
Date: 25 May. (Thur)
Time: 8:30-17:00
Place: Nantou
Activities: Company Visit x Taiwan Cultural Tour
Taiwan locol art introduction
Indigo dyeing
Bio-tech introduction
Coffee house with snack and coffee
Target: Foreign students form NUST (Maximum 45 perosn)
Fee: Free with NTD500 deposit
Registration Deadline: 14 May.(Sun) Seats are limited, please reserve now!
Agenda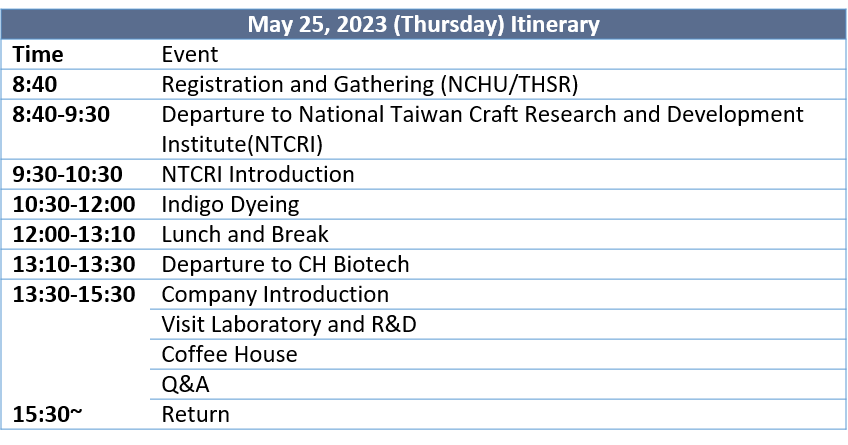 How to Join
Registration Link: https://forms.gle/XBkx4wxFcG5zeNZv6
To complete the registration, please pay deposit NTD 500 by 14 May.
We will provide a virtual account after you submit this form.
Contact Info
Email: This email address is being protected from spambots. You need JavaScript enabled to view it.
Telephone: +8864-2284-0206*43 Miss Liu
Attachment
Know more about CH Biotech