2023 NCHU Career Talk
In the Career Talk, we invited two foreign alumni who graduated from NCHU and stayed in Taiwan to share their personal experience of staying in Taiwan. Through the experience sharing, students will know more about the laws, regulations and job application process.
Moreover, we invite companies that intend to hire foreigners to hold enterprise recruitment sessions. Enterprise will also share their interview experience and resume writing skills with students.
We believe that these activities will be helpful for foreign students to get familiar with the working environment in Taiwan more effectively. Come and join us!!
Students can bring their resumes to the company on the day of the activity.
Activity Information
Date: 2023. 04. 14 (Fri.)
Time: 9:30 – 12:30
Venue: National Chung Hsing University Humanities Building Room 101
Target: Foreign and oversea students
Fee: Free
*Free refreshments for participants!
Agenda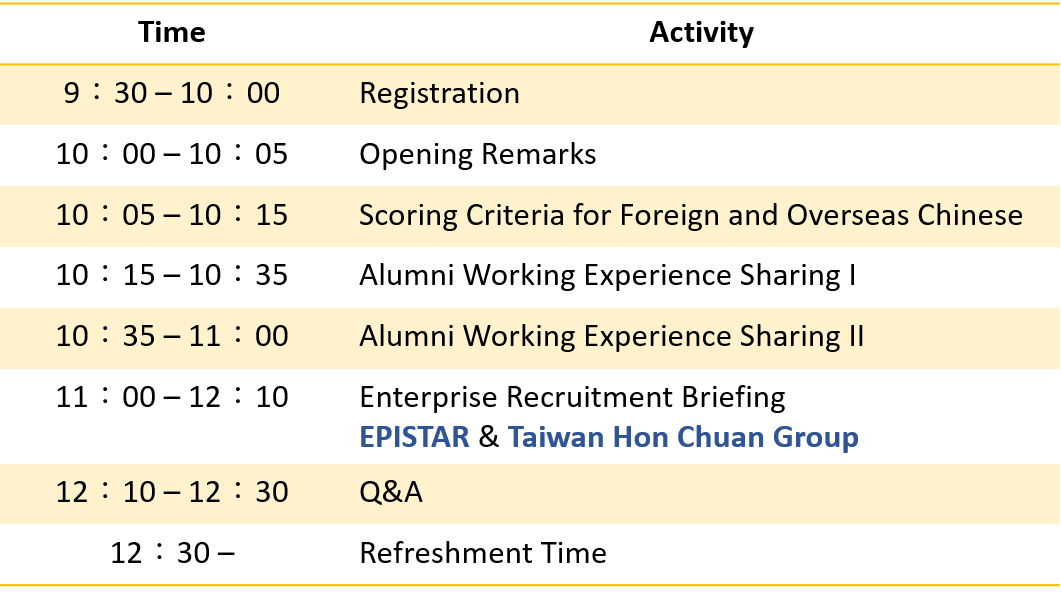 Scoring Criteria: Brief introduction of Scoring Criteria for Foreign and Overseas Chinese
Working Experience Sharing: Alumni form NCHU will share their experience with you

Enterprise Recruitment: EPISTAR & Taiwan Hon Chuan Group recruitment briefing
How to Join
Registration Link: https://forms.gle/sMwgtW6kwpo2NJnz7
Contact Info
Email: This email address is being protected from spambots. You need JavaScript enabled to view it.
Telephone: +8864-2284-0206*43 Miss Liu
Attachment
Taiwan Hon Chuan Group vacancies_Indonesia