2022 TCUS Cultural Field Trip - Kaohsiung & Tainan
* For the COVID-19 pandemic prevention, participants need to get at least 2 COVID-19 vaccination before 29th April 2022.
FREE 2 days event with an NTD1,000 deposit for registration. The deposit will be returned AFTER the event.
Date│
2022.05.13-14 (Fri.-Sat.)
Destination & Content│
Day 1 - Kaohsiung / Indigo dye, Litchi Krispie Treats DIY, Harvest Pineapples
Day 2 - Tainan / Old Waterworks Museum, Yoichi Hatta Memorial Park@Wusanto Reservoir, DIY Succulent Pots
Target│ Students from NSYSU, NCKU, CCU, and NCHU (priority goes to international students, 7 quotas/per university.)
Schedule│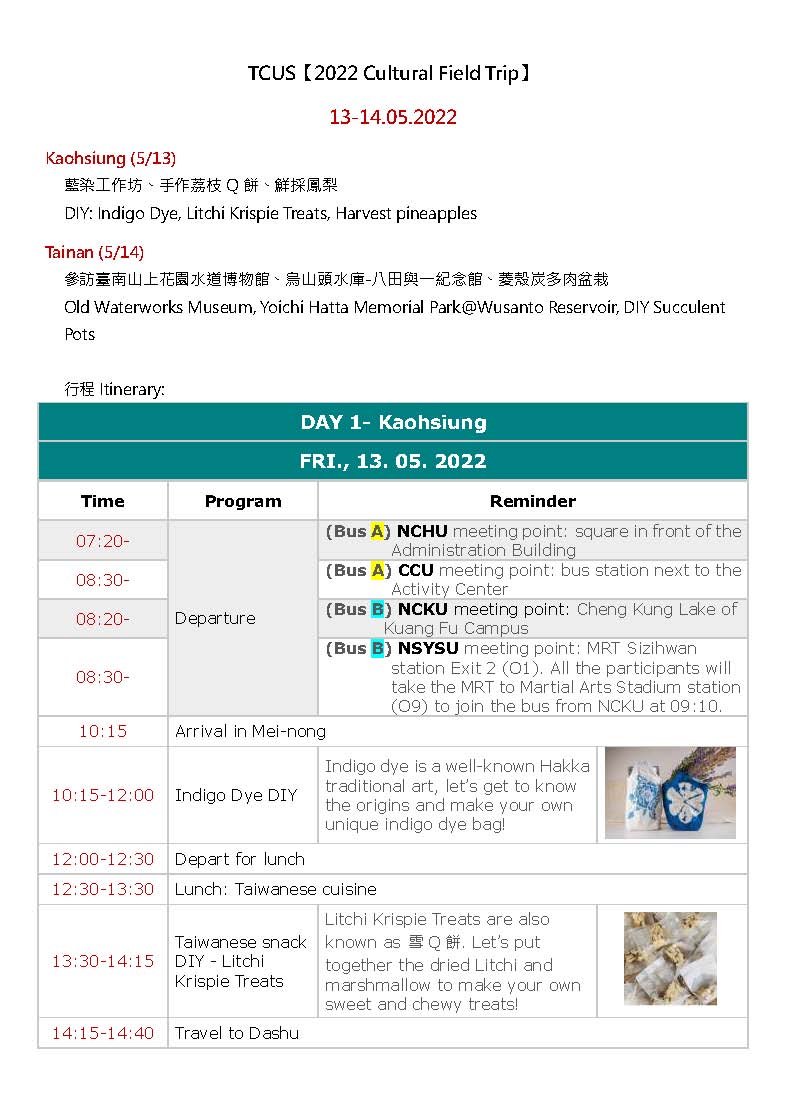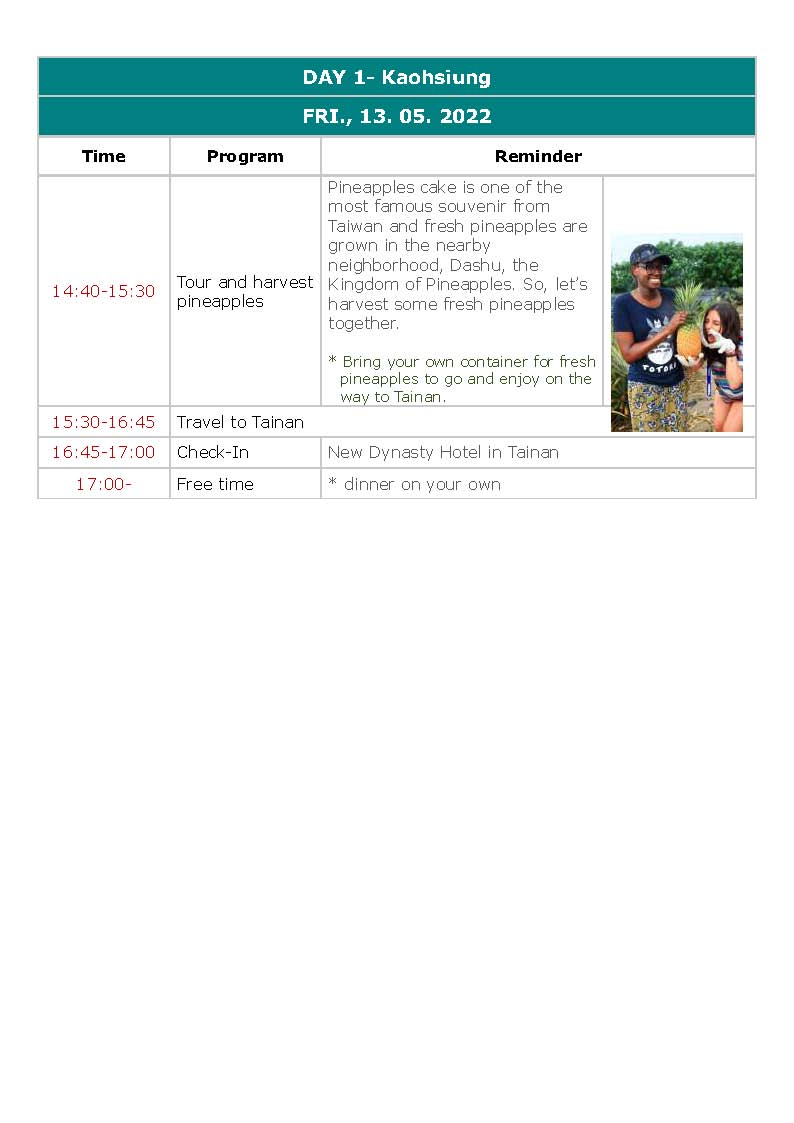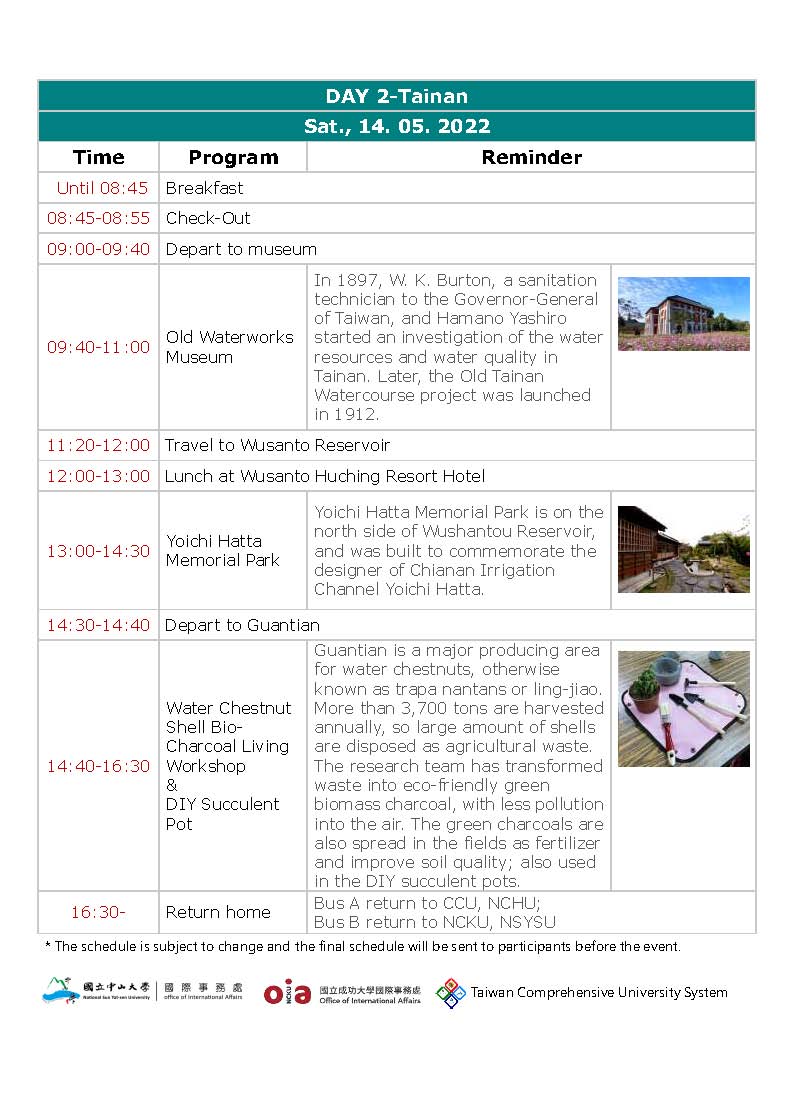 Deadline│ Before 12:00 pm, 25th April 2022 (quota is limited)
Application│ (1) Complete the registration form and (2) pay for the deposit of NTD1,000 (to the OIA of your home university).

The quota for NCHU students is FULL.
* This event is free of charge, registered on a first-come-first-served basis.
* A deposit of NTD1,000 before the deadline is required to complete the registration. The full amount will be returned after the trip.
* The deposit will be non-refundable if canceled after 23:59, 26th April 2022.
(NCHU students - please pay the deposit to Ms. Chang @ OIA Office)
Notice│ - Seats are limited and early registration is strongly recommended.
- The dress code for visits is casual (no flip flops).
- For environmentally friendly, please bring your own container for fresh pineapples to go.
- For further questions, please contact Ms. Yvette (This email address is being protected from spambots. You need JavaScript enabled to view it.) or Ms. Lesley (This email address is being protected from spambots. You need JavaScript enabled to view it.) via e-mail.
Host│ National Sun Yat-sen University, National Cheng Kung University
Co-host│ Taiwan Comprehensive University System (TCUS)