National University of Singapore (NUS) | The Asia-Pacific Carbon Neutrality Symposium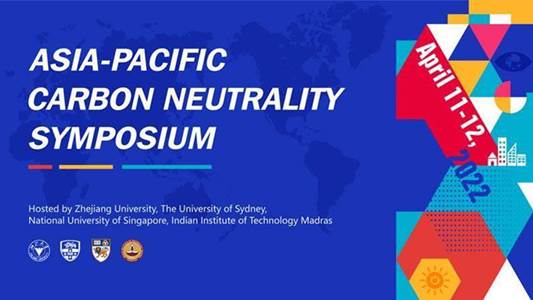 Universities can play an important role in addressing sustainable development goals (SDGs) to achieve the world's most urgent mission - Carbon Neutrality by 2050.
Join this two-day Symposium for robust discussions on Carbon Capture, Utilization and Sequestration, Sustainable Energy, and Sustainable City and Construction led by four top universities in the Asia-Pacific region - Zhejiang University (ZJU), the University of Sydney (USYD), National University of Singapore (NUS) and the Indian Institute of Technology Madras (IITM).
Building on the collective strength of academic champions and early and mid-career researchers, the Symposium will promote cross-institutional knowledge sharing and transfer at the intersection of post-pandemic Carbon Neutrality and develop collaborative initiatives that offer solutions for Affordable and Clean Energy, Sustainable Cities and Communities and Climate Action.
Asia-Pacific Carbon Neutrality Symposium
Monday, 11 April 2022 1:00 pm 3:10 pm, Singapore (GMT+8)
Tuesday, 12 April 2022 11:30 am 2:15 pm, Singapore (GMT +8)
RSVP
Please register online (link provided above). A detailed program and a Zoom meeting invite will follow after your registration.
By registering your participation and attending the Symposium, you give consent to the recording of the virtual event.
Programme
Day 1 - Monday 11 April 2022
13:00-15:10 Hangzhou/Singapore; 15:00-17:10 Sydney; 10:30-12:40 Chennai
Opening Session
Prof HE Lianzhen, Vice President, ZJU
Prof Katherine Belov, Pro-Vice-Chancellor (Global Engagement), USYD
A/Prof Reuben Wong, Associate Vice President, Global Relations Office, NUS
Prof Raghunathan Rengaswamy, Dean (Global Engagement), IIT Madras
Moderator: A/Prof LI Min, Director, Office of Global Engagement, ZJU
Session 1: University Approach to the Sustainability research (SDGs)
Chair: Prof Ken-Tye Yong, Associate Dean (External Engagement), Faculty of Engineering, USYD
Prof GAO Xiang, Dean, College of Energy Engineering, ZJU
Prof Benjamin Eggleton, Director of the University of Sydney Nano Institute, USYD
A/Prof Lee Poh Seng, Executive Director of Energy Studies Institute, Director of Singapore Energy Centre, and Director of Centre for Energy Research & Technology, NUS
Prof Ligy Philip, Dean (Planning) and Institute Chair, Department of Civil Engineering, IIT Madras
Session 2: Carbon Capture, Utilization and Sequestration
Chair: A/Prof Loh Wai Lam, College of Design & Engineering, NUS
Prof Praveen Linga, Vice-Dean, College of Design & Engineering, NUS
Prof FU Weiqi, Ocean College, ZJU
Dr Weibin Liang, ARC Discovery Early Career Researcher Award (DECRA) Fellow, School of Chemical and Biomolecular Engineering, USYD
Prof Rajnish Kumar, Department of Chemical Engineering, IITM
Mr Ho Jia Hau, Year 4 Student, Department of Mechanical Engineering, College of Design and Engineering, NUS
Day 2 - Tuesday 12 April 2022
11:30-14:15 Hangzhou/Singapore; 13:30-16:15 Sydney; 09:00-11:45 Chennai
Session 3: Sustainable Energy
Chair: A/Prof Satyanarayanan Seshadri, Applied Mechanics and Faculty-in-charge, The Energy Consortium, IIT Madras
A/Prof Girish Lakhwani, Deputy Director, University of Sydney Nano Institute, School of Chemistry, USYD
Dr Nikhil Tambe, CEO, The Energy Consortium, IIT Madras
Prof Armin Aberle, CEO, Solar Energy Research Institute of Singapore, College of Design and Engineering, NUS
Dr Feng Li, Sydney Nano China Ambassador, ARC Discovery Early Career Researcher Award (DECRA) Fellow, School of Physics, USYD
Prof BO Zheng, Executive Vice Dean, Polytechnic Institute, ZJU, Deputy Director, Key Lab of Clean Energy Utilization, College of Energy Engineering, ZJU
Mr Pradeep Murthy, PhD Candidate, Sydney Nano Student Ambassador for CO2Zero, School of Chemical and Biomolecular Engineering, USYD
Session 4: Sustainable City and Construction
Chair: Prof XIAO Yan, Program Director for Energy, Environment and Sustainable Systems Sciences, ZJU-UIUC Institute, ZJU
A/Prof Cristoforo Demartino, ZJU-UIUC Institute, ZJU
Prof Manu Santhanam, Dean, Industrial Consultancy & Sponsored Research and Prof, Department of Civil Engineering, IIT Madras
Prof Heng Chye Kiang, Director, Centre of Sustainable Asia Cities, and Deputy Dean, Research and Innovation, College of Design and Engineering, NUS
Prof Gwenaelle Proust, Deputy Director, Sydney Manufacturing Hub, School of Civil Engineering, USYD
Ms Siqi SHU, PhD Candidate, Transport Systems & Environment Lab, ZJU-UIUC Institute, ZJU
Conclusion
Prof XIAO Yan, Program Director for Energy, Environment and Sustainable Systems Science, ZJU-UIUC Institute, ZJU
Prof Huang Jun, School of Chemical and Biomolecular Engineering, Faculty of Engineering, USYD
A/Prof Loh Wai Lam, Academic Director, Global Relations Office, NUS
Programme Manager, Centre for Offshore Research & Engineering, College of Design and Engineering, NUS
A/Prof Satyanarayanan Seshadri, Applied Mechanics and Faculty-in-charge, The Energy Consortium, IIT Madras
Moderator: Ms Amanda Sayan, Director of Partnerships, Office of Global Engagement, USYD